No that this has much to do with music, but when I heard of GM discontinuing the Pontiac brand I was a little sad. I suppose it is a reflection of our times, the recent Pontiac line had
nothing
to do with the original concept... GTO, Grand Prix, Trans Am, etc. In the 60's Pontiac built - quoting
Pontiac ad man Jim Wagner
- "excitement!"
Excitement indeed! I learned how to drive on my parents '67 LeMans Sprint Six and let me tell you something,
that
was a real automobile!! A straight 6 OHC with four on the floor, this was the little brother to the mighty GTO and made my teen years something to remember!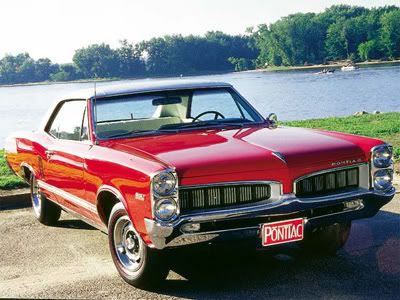 [ 1967 Pontiac LeMans Sprint ]
Wagner goes on to say "all these little boys in men's jobs come along, and come up with insanely stupid 'G' names" ... and a product that had little or nothing to do with the original idea. So another bit of inspired history disappears into the mega-profit (and loss) world of 21st Century capitalism. I will always have my memories.
I suppose this does relate to music in a way... with real rock 'n' roll having been absorbed by multinational mega corporations decades ago and made for MTV marketing, where is the excitement in new music? If you have a clue I wish you would give me a hint. Just like the new cars being made today, excitement has been mass produced into everything is the same bland tasteless disposable nothingness.